PROFESSIONAL MOVERS IN ARLINGTON, VA
OUR TEAM WILL MAKE YOUR MOVE TO ARLINGTON EASY AND AFFORDABLE
Are you moving to Arlington? Don't make the mistake of waiting until the last minute to find a reliable moving company. When you go with the experts at Friendly Movers, you can rest assured that your move will be as simple and stress-free as possible. From planning your move and packing your things, to intermittent storage, interstate transportation, and unpacking your belongings, you can depend on our team of professional movers to get the job done right. We offer quick, no commitment quotes, so fill out the form at the bottom of this page to request information, or contact us today!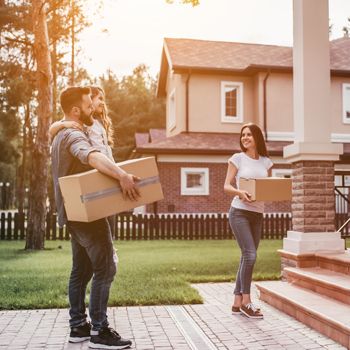 WHY CHOOSE FRIENDLY MOVERS?
Local experts - Our crew knows Arlington and the surrounding areas
Interstate - Licensed by the US DOT for long-distance moves to all 50 states
Packing - From basics to sensitive items, we provide the materials and labor
Professional storage - We offer clean and secure storage solutions
Insurance available - Get peace-of-mind with one of our insurance plans
Trusted - Check out our testimonials to see how our clients feel about Friendly Movers
Easy Estimates - It's simple to get started. Get a free quote today!
MOVING SERVICES IN ARLINGTON, VIRGINIA
OUR AFFORDABLE STORAGE AND MOVING SERVICES MAKE YOUR MOVE TO ARLINGTON EASY.
Many people have the incorrect assumption that storage and moving services are expensive. This results in either companies or individuals attempting to move on their own, or waiting until the last minute to find a moving company. Many families and businesses moving to Arlington find themselves in this predicament — don't be one of them!
When you go with the right company, professional storage and moving services are quite affordable — especially when you rely on the experts at Friendly Movers! If you consider all the time, effort and risk associated with moving your belongings on your own, taking help from a professional and affordable company is an easy decision. Saving a few bucks is not worth wasting time and risking the safety of your goods.

OUR QUICK AND EFFICIENT STORAGE AND MOVING SERVICES ARE AVAILABLE AT YOUR DOORSTEP.
If you're moving to or from Arlington – or anywhere else in the country – we can help you. Our team of professional movers and drivers can pack, transport, deliver (or store) your goods wherever you want them. We believe in providing efficient, high-quality services. So our employees will go to great lengths to see that we fulfill and uphold this promise. Do not forget to give us a call when you are looking for a moving and storage company. We will tell you about our rates, and you can compare them with the rates of other companies. Very few companies in the area can match our moving service rates. If they do, there's a good chance that they compromise and skimp on the service to save costs. Don't take a chance with a sub-par moving company. Rest assured that your move is in the best of hands with Friendly Movers. Get your free quote today.
GET A QUICK QUOTE