FRIENDLY AND PROFESSIONAL MOVERS IN CRYSTAL CITY
PREMIUM MOVING SERVICES IN CRYSTAL CITY, VA
Are you looking for a professional moving company to assist you with your move to, from, or within Crystal City, VA? With dedicated and courteous service, expert knowledge of the area, intermittent storage options, and more, it's no wonder that Friendly Movers is trusted by the Crystal City community. Our team can handle the entire process for you — from packing, transit, and storage to unloading, unpacking, and setting up your new residence. Whether you are traveling locally or making a cross-country move, the experts at Friendly Movers can make the process as simple and stress-free as possible. Get in touch with us today for a quick and easy quote — it won't cost you a dime.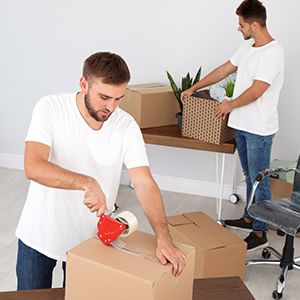 WHY CHOOSE FRIENDLY MOVERS?
Local movers - Our team knows the Crystal City area from top-to-bottom
Interstate-licensed - Authorized by the US DOT for long-distance moves to all 50 states
Packaging provided - In most cases, Friendly Movers provides the materials and labor
Storage solutions - Secure storage units are available for rent during your move
Insurance options - Enjoy peace-of-mind with our comprehensive insurance plans
Reputable - Check out our testimonials to hear what our clients have to say
Quick Estimates - Getting started has never been easier. Get a free quote today!
PROFESSIONAL MOVERS IN CRYSTAL CITY, VIRGINIA
TRUST OUR MOVERS FOR YOUR MOVE TO OR FROM CRYSTAL CITY
Moving to a new home in Crystal City, VA? Friendly Movers has all of the solutions you need. As you premier moving and storage company, we offer a diverse range of moving services to match your unique requirements. Whether you plan to move in a week, a month or a few months down the line, we can help you plan and schedule your relocation without any hassles. Our movers will take over the hard work that is involved in relocating your home or office, giving you peace-of-mind while you handle everything else.
WE CAN HANDLE EVERY ASPECT OF YOUR MOVE, EVEN PACKING!
Whatever you need to be moved from your existing home or office to your new location, we make sure that your goods are properly packed and transported to prevent damage. Whether it is simple household goods, like clothes, books and utensils, or fragile and expensive items, like electronic appliances, office equipment, machinery, glassware, paintings, or other valuables, our movers use the highest quality materials for packing. With our arsenal of bubble wraps, firm cartons, plastic sheeting to protect your goods from rain and moisture, and more — we go to great lengths to keep your valuables safe. Contact us to get started!

WE ADHERE TO THE HIGHEST STANDARDS.
Friendly Movers aims to your go-to moving company. We have been in the industry for many years and are one of the top companies in the area. We adhere to the highest standards through every step of your office or home relocation. Our staff is trained to deliver the best quality services to all of our clients, whether you're moving down the road or across the country. For the highest quality moving services, choose Friendly Movers. Get your free moving quote today.
GET A QUICK QUOTE