PROFESSIONAL MOVING SERVICES IN GEORGETOWN
EXPERT MOVING SERVICES IN GEORGETOWN, WASHINGTON D.C.
As a hub of business, education, and politics, Georgetown — famously home to Georgetown University — is a bustling neighborhood that can make moving especially overwhelming . If you're moving to, from, or within Georgetown, you need professional moving services to make the process as simple and stress-free as possible. At Friendly Movers, we have long served the residents of Georgetown, and our dedication to our customers has earned us a large client base in Washington D.C. From simple moves across town to long distance moves across the country, our team can handle the entire process for you, from start to finish. Get in touch with us today to get a free quote, or give us a call to speak with an expert.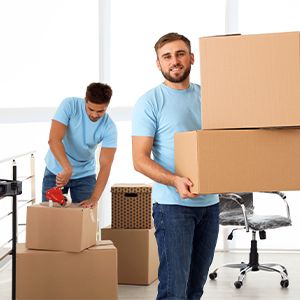 WHY CHOOSE FRIENDLY MOVERS IN GEORGETOWN?
Local movers - Let us expertly navigate the busy blocks of Georgetown
Start-to-finish - From packaging and storage to unloading and setting up
Interstate - Licensed by the US DOT for long distance moves to all 50 states
Insurance available - Protect your goods with a comprehensive insurance plan
Trusted - Read our testimonials to hear from our past- and repeat-clients
Free quotes - We make it simple to get started — get a free quote today!
LOCAL MOVING COMPANY IN GEORGETOWN, WASHINGTON D.C.
Our Moving Company Offers Storage Services in Georgetown
Since the time it was established in 1751, Georgetown has grown by leaps and bounds. The neighborhood is now home to Georgetown University, a number of high-end businesses and many diplomatic missions. As a result, there is always someone moving to Georgetown. As Washington DC's premier moving company, we have assisted many homes and offices in moving to Georgetown over the years. In fact, we are one of the most affordable and efficient moving and storage companies around. Moving can be tiring and time-consuming. The least you can do is to ensure you find the right moving company to handle it. We are a local moving and storage company. Moreover, our trucks are driven by experienced drivers who know their jobs well. We can undertake the most difficult jobs and complete them carefully, ensuring that your goods are delivered safely.
We Care for Our Clients' Needs
Most local movers have little empathy for their client's goods. For them, you are just another paycheck, which is why you should be careful when choosing the right moving company. We have been in the business for a number of years, and we understand what our clients need. We are proud to tell you, that as far as moving and storage goes, we are one of the best.

If you work with us, we promise that we will do our job with the utmost care, preventing damage to your home or office and keeping your goods safe during transit. We can also provide local storage facilities. Local storage is a great option if you are moving temporarily, getting construction done on your home or office, repainting or making any other changes to your home, and more. If you want to learn more about our moving services, please visit our contact us page. You may also mail us your query or ask for a free moving quote.
GET A QUICK QUOTE