Are you planning a move to Miami, Florida? Moving across the country can be one of the most stressful things you will undertake. There are lots of logistics to account for, and making sure all of your possessions make it safely to your new home is always important. The team at Friendly Movers is here to make the transition as easy and stress-free as possible! Contact our moving company today to learn more about how we can help.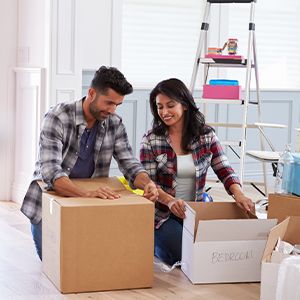 SOME OF THE LONG-DISTANCE MOVING SERVICES THAT WE OFFER INCLUDE:
Packing and storage
Guaranteed satisfaction
Punctuality
Efficiency
Affordability
LONG DISTANCE MOVING TO FLORIDA
Florida is the third most populous state in the US. This popular tourist state draws millions of visitors each year! When you are taking care of moving your belongings to this southern state from Washington DC, the team at Friendly Movers can help. Our attitude is right there in our name — friendly! We want to make this transition as simple as possible for you as you shift from DC to Miami or the surrounding areas. If you need to leave some of your items behind to be picked up later or if you will be returning to DC for any reason, we can assist in arranging for a local storage unit for you. During your move, our team will take care of everything. We will safely pack all of your belongings into our truck, drive your items from DC to Miami, and help you unload everything into your new home once we arrive. We are licensed by the US DOT, so we are able to easily move your goods from state to state!

MOVING TO MIAMI
Miami was recently classified as an Alpha-World City. Considering that it is a center for commerce, finance, entertainment, culture, media and education, we would say the title is well deserved. If you are moving to Miami, leave it to Friendly Movers to transport your belongings to your new home. We have years of experience moving residents both locally and nationally, and you can trust our team of movers to get the job done on time, professionally, and to care for your belongings as if they were our own!
PREPARE FOR YOUR MOVE WITH FRIENDLY MOVERS
To learn more about our long-distance moving service to Miami or another city in Florida, please contact us for your free moving quote. We will be happy to give you any additional information you need as we aid you with a stress-free moving experience! We want you to enjoy your new life in Miami, and one of the key factors to help your enjoyment will be to have all of your items safely in your new home. We look forward to working with you and providing you with a friendly moving experience.
GET A QUICK QUOTE