PROFESSIONAL MOVERS IN ROSSLYN, VA
ENJOY COMPREHENSIVE, AFFORDABLE MOVING SERVICES IN ROSSLYN
At Friendly Movers, we are proud to provide commercial and residential moving services to anywhere in the United States. Whether you are moving down the street or across the country, you can depend on our team to make the process as simple and affordable as possible. Our professional movers have extensive experience relocating businesses, families, students, and individuals, and we have a track-record of excellence to back it all up. Don't face your next move alone — Friendly Movers has you covered! Read on to learn more about our moving services in Rosslyn, contact our team with any questions, and request a free quote today!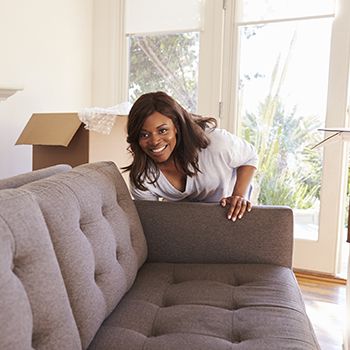 WHY CHOOSE FRIENDLY MOVERS?
Local - Our professional movers know their way around Rosslyn
Packing services - Save yourself a trip; our team can provide the materials and labor
Storage options - Need to wait until move-in day? Rent a secure storage unit
Interstate-licensed - Authorized by the US DOT for long-distance moves to all 50 states
Protect your goods - Ask about our affordable, comprehensive insurance plans
Reliable- Check out our testimonials to hear from our satisfied customers
Free estimates - What are you waiting for? Request a free quote today!
PREMIER MOVING COMPANY IN ROSSLYN, VIRGINIA
If you have been looking for reliable and efficient moving company, you've come to the right place. Friendly Movers is a leading moving, packing and storage company, catering to the needs of individuals and organizations in need of packing, transportation, and logistical services. We offer a wide-range of relocation services, from packing and storage to transporting goods. Once you tell us what you need us to move and where to move it, we will make sure your goods are safely transported to the desired destination on time and in one piece.

LET US HELP YOU SIMPLIFY YOUR OFFICE MOVE
At Friendly Movers, we offer customized solutions to match the demands of your business. Whether you're a startup or an established business that has been around for many years, we can chalk out the perfect relocation and storage package to meet your needs and budget requirements. We have many years of experience in packing and moving delicate and expensive office equipment locally and across state lines. Choose Friendly Movers as your trusted moving company, and you can rest assured that your goods will be safely delivered to your new premises. We also offer insurance for the goods we transport to help you gain even more peace-of-mind during the moving process. Contact us today!
CHOOSE MOVING COMPANY FOR ALL OF YOUR LOCAL AND LONG-DISTANCE NEEDS
Friendly Movers has a local office managed by efficient staff that has been in the logistics industry for many years. They are the experts when it comes to home relocation for both local and cross-country moves. Find out how you can move your home without breaking the bank — talk to our team of logistics experts today and find out what the best package is for you. If you choose our full-service moving company for all your relocation and moving needs, we guarantee that you will not regret it. Get your free moving quote today!
GET A QUICK QUOTE